The peaches and nectarines are delicious at the moment. Yellow peaches and nectarines have a a slightly more robust peachy flavour so they are perfect when added to salads or served in a savoury couscous such as my  Giant couscous, peach, pomegranate and pistachio salad. White peaches have a far more subtle, delicate taste and are simply sublime when served in a bellini (blitz a ripe white peach up in a  blender or nutribullet with a pinch of sugar then place a tablespoon in a glass and top up with prosecco or champagne for the perfect summer drink).
My husband's french uncle who was the ultimate foodie (and extraordinary chef), thought that the best way to serve a white peach was with a good glass of Pommerol. There was something about the tannins in the wine which were perfectly matched to the sugars of the peach. It's definitely worth tasting if you get the chance.
Peach sorbet is incredibly easy to make and I find if you make it with half yellow and half white peaches the flavours balance perfectly. Make sure the peaches are really juicy and ripe so the sorbet will pack a delicious peachy punch.
To make peach sorbet; blitz together 2 yellow and 2 white peaches then add 2 tablespoons of sugar and the juice of half a lemon. Taste for sweetness adding more sugar if necessary, then place in an ice-cream machine and churn (if you don't have an ice cream machine you can easily make peach granita instead following my recipe for Fat free Watermelon granita with mango and mint to chase away those January blues).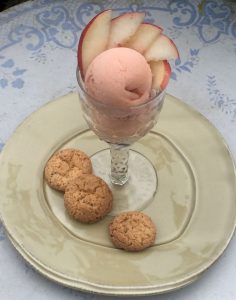 Peaches are also wonderful served in a tart. You can prepare them the same way as my Classic French apricot tart or alternately add a frangipani base using almonds, sugar, eggs, and butter.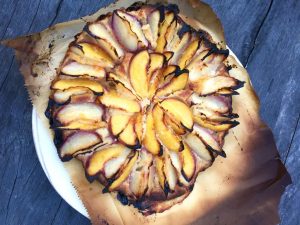 Roast peaches are one of the easiest desserts to make. Cut in half, sprinkle with a little sugar then roast in a hot oven for 20-30 minutes so that the sugars have begin to caramelise. Serve with a good dollop of creme fraiche or vanilla ice cream. Cooking doesn't get much easier than this…!
This is one of my all time favourite recipe with peaches. Roast peaches stuffed with mashed peach, amaretti, toasted almonds and amaretto for a truly decadent way to finish off a meal. Don't be stingy with the amaretto.
Roast peaches with amaretti almonds and amaretto
Difficulty: easy                        Serving :4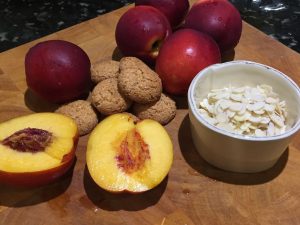 8 amaretti biscuits broken into pieces
40g castor sugar
1 very ripe peach
4 ripe peaches
2 shots amaretto
Handful of flaked almonds
1 small knob of butter
 
Preheat the oven to 200c.
Take the very ripe peach and blitz it into a puree. Add the amaretto broken biscuits and half of the sugar. Mix well.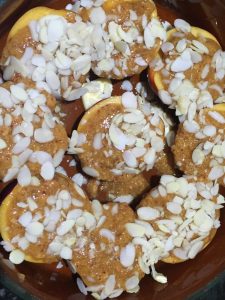 Cut the 4 peaches in half and remove the stone. Fill the cavity with the peach mixture and place the peaches stuffed side up in a well-buttered ovenproof dish. Sprinkle with the almonds and sugar and bake in the top of the oven for 30-40 minutes until golden brown. Serve hot or cold with crème fraiche or a little Greek yoghurt.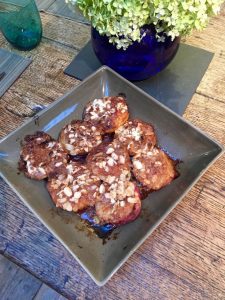 .