If ever there was a reason for growing your own vegetables it has to be the taste of your first homegrown tomato. The taste is so exquisitely different from those you buy in the shops. Sweet succulent and bursting with flavour there really is no comparison.
This year all my hard work earlier in the year has finally paid off, and  the tomatoes have been producing a particularly abundant crop. I haven't had to buy any tomatoes since June!
One of the great staple things to make with a glut of tomatoes is homemade tomato sauce. Use as a base for pasta sauces, soups and is wonderful on  homemade pizza. Just chop up the tomatoes (any type will do) and add a little crushed garlic maybe some chilli or oregano or basil and cook over a high heat for 5-8 minutes until the tomatoes have become soft and reduced a little. Blitz in a food processor and season with a little salt and pepper and store in a glass jar in the fridge for a week or freeze until needed.  (recipe below)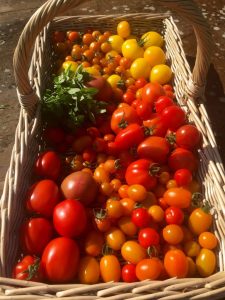 The tomato tart recipe below is really simple and easy to make. Ideal if you want a quick lunch or light starter for dinner. Crisp pastry on the bottom is then topped with a rich tomato sauce and fresh tomatoes then served with a fresh basil dressing drizzled over the top. The recipe below is for for individual tarts but you can easily make one large tart instead which will serve 4-6.
Tomato tart with basil dressing recipe
difficulty: easy              Serving: 4
1 pkt pate brisé/shortcrust pastry(230g)
4tbsp homemade tomato sauce*
6 red and 6 yellow medium sized tomatoes (or 12 red)sliced
1 large bunch basil
2tbsp olive oil
sea salt and freshly ground black pepper
Roll out the pastry to 2mm thick and cut into 4 x12cm diameter rounds. Place on a oven tray and leave to rest in the fridge for 20 minutes. (* little tip if you use ready rolled pastry you do not need to rest the pastry before cooking).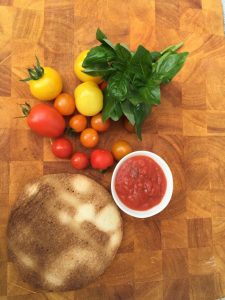 Preheat the oven to 200C.
Remove the pastry from the fridge and prick with a fork and bake in the oven for 8-10 minutes until golden brown.
Spread a tablespoonful of the sauce on each disc and arrange the tomato slices over the top. Season with salt and pepper and return to the oven and bake for 6-7 minutes. (If making a large tart then bake for 8-10 minutes). Do not over bake or the tomatoes will go soggy .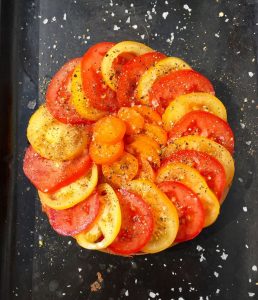 Blitz the basil and olive oil together with 1 tablespoon of cold water. Season with salt and pepper adding a little more water if the dressing is too thick.  Drizzle over the tart and serve.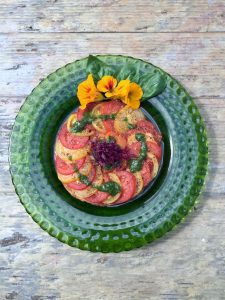 *Fresh tomato sauce
8 salad or plum tomatoes chopped
1 clove garlic crushed
a few sprigs of oregano with the stalks removed
1/4 red chilli chopped
1 tbsp olive oil.
Place all the ingredients in a pan and cook over a medium heat for 8 minutes until the tomatoes are mushy and some of the liquid has reduced. Remove from the heat and season with salt and pepper and blitz till smooth. Test again for seasoning and freeze when cool or store in a glass jar in the fridge for up to 1 week.