My blueberry crop is sadly coming to an end so I thought a good way to finish of the season would be to make some blueberry muffins which are always popular with my kids.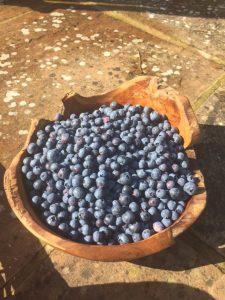 One of the secrets of making good blueberry muffins is getting just the right balance of fruit. Too much they will not rise properly and become soggy but you still  need  just enough fruit to ensure that they are packed with flavour.
The great thing about muffins  is that they are very quick and easy to make so they are an ideal cake if you are a novice baker, or want to introduce your kids to baking. A good trick with muffins is not to over mix the batter. Lumpy batter is good and will keep your muffins light and airy.
Once you have mastered making muffins its great to experiment with different flavours. Nuts, seeds and fruit are all good additions. Grated carrot and hazelnut make a very tasty muffin for breakfast and beetroot with chocolate chip is surprisingly  decadent and delicious. So get baking and let me know your perfect muffin.
Blueberry poppyseed and pistachio muffins
Difficulty: easy                  Serving: 12 large muffins
200gplain flour
120g castor sugar
2.5tsp baking powder
3 eggs
200g blueberries
50ml hazelnut oil
100ml groundnut oil
2tbsp poppy seeds
70 g pistachio nuts coarsely chopped
Pre heat the oven to 170C. Place 12 muffin cases in muffin tin.
Sieve the flour, sugar and baking powder into a bowl.
Beat the eggs, milk and oil together and lightly whisk into the dry ingredients. Fold in the blueberries and poppy seeds taking care not to over mix the batter (lumpy batter is good!). Fill the muffin cases with the batter (you should make 12 large muffins or 16 smaller ones).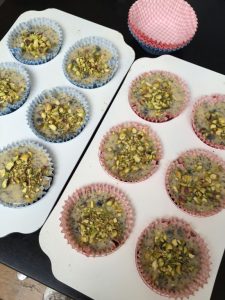 Sprinkle over the chopped pistachio nuts and bake in the middle of the oven for 20-25 minutes. (To check if they are done insert a skewer into the muffin and if it comes out clean it is cooked). Remove from the oven and leave to cool slightly before serving.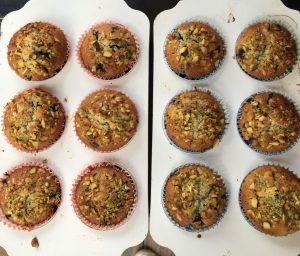 The muffins will keep well for a couple of days in an airtight container and are a great addition to the lunchbox, or to munch on for 'breakfast on the go.'