Beetroot is a wonderfully versatile vegetable. You can eat it raw or cooked, both the leaves and the root.
The young leaves are delicious in salads and are packed full of iron, vitamin A and C.  The root can grated raw in salads or tastes great when juiced in a smoothie (beetroot, apple carrot and ginger is one of my favourites).
I like to roast beetroot whole in their skins, this intensifies their earthy flavour and brings out the sweetness. They can then be blitzed into a soup, or sautéed with a little butter and marmalade (very tasty). The root is a great source of fibre packed full of antioxidants, vitamins and minerals, and is low in fat too.
Beetroot is also a great addition to cakes as the root is naturally sweet. When mixed with chocolate it makes a wonderfully moist cake  (see my Gluten and dairy free chocolate hazelnut and beetroot cake ) and is delicious in brownies (in my next post). My son is a recent convert to beetroot  ever since he tasted Heston Blumenthal's incredible beetroot and horseradish macaroon.
Another great thing about beetroot is that it is very easy to grow and has a long season. You can start harvesting the leaves in early summer and still be picking the roots in late autumn. So it really is a power vegetable!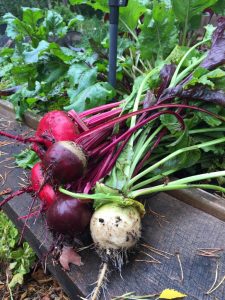 Roast beetroot, feta and hazelnut salad with pesto and balsamic dressing
This maybe served as an individual starter/light lunch or as a large side salad
Difficulty: easy                                Serves :2
3 medium sized beetroot (preferably a mixture of golden, yellow and ruby beetroot if you can get them)
10 hazelnuts
30g feta
a small handful of rocket leaves
small handful of basil leaves
1 tbsp olive oil, 1 tbsp sunflower oil and 1 tbsp cold water
balsamic glaze*
Preheat the oven to 200C. Wrap the beetroot in foil (leaving their skins on) and roast in the oven for 40-50 minutes until soft. Remove from the oven and leave to cool. (This may be done a day in advance).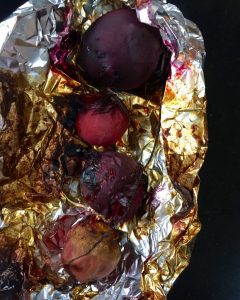 Remove the beetroot from the foil and peel off their skins. Cut the beetroot into dice size cubes. Make the pesto dressing by blitzing the basil leaves with the oil and water and then season with a little salt and pepper. Toast the nuts in a frying pan over a high heat for a minute or two until they start to colour. Remove from the heat and leave to cool then roughly chop.
Take a large plate and arrange the beetroot, salad leaves and feta on the plate. Drizzle over the balsamic glaze and a teaspoon full or two of the pesto. Sprinkle over the hazelnuts and serve.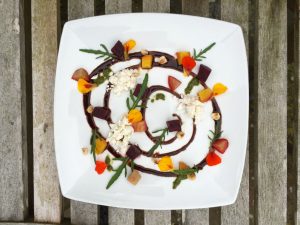 *If you do not have any balsamic glaze you can make a cheat's version by boiling 60 ml of cheap balsamic vinegar until it becomes thick and syrupy (about 20ml).