Following on from the merits of beetroot this week, as promised here is a fantastic recipe for chocolate, beetroot and pecan brownies. They really are deliciously gooey and moist and just a little bit lighter than normal brownies, and because beetroot is naturally sweet, the brownies contain less sugar than traditional brownies (which sort of makes them healthier too!)
When making brownies its really important not to over bake them. They should have a slight cracked looking crust on top but still be lovely and soft in the centre.
In this recipe, I have used fresh beetroot which I have then boiled, but you can use ready cooked beetroot which is available vacuum packed in most supermarkets. (Just be careful not to buy the ones cooked in vinegar!) If you are like my niece and hate nuts, just leave them out. The texture  will be slightly different but they will still taste nice and gooey.
Chocolate and beetroot brownies with pecans  
Difficulty: easy                Serving: 24 brownies
250g dark chocolate (70%)
250g butter
220g castor sugar
50g plain flour
250g raw beetroot peeled and cut into quarters
100g ground almonds
1/2 tsp bicarbonate soda
100g pecans
3 eggs

Preheat the oven to 180C.
Line a baking tray (approx 25cmx15cm) with greaseproof paper.
Place the beetroot in a pan and cover with water and boil for 15-20 minutes until they just begin to soften. Then drain and leave to cool ,peel and coarsely grate.
Break the chocolate into pieces and place in a bowl with the butter over a pan of simmering water. Leave to melt slowly. Then remove the bowl from the pan, stir well and set aside.
Place the nuts on a roasting tray and toast in the oven for 1-2 minutes until they just begin to colour. Remove and leave to cool, then cut in half.
Beat the eggs and sugar with an electric whisk until they turn pale and thicken (about 3-4 minutes on a high speed). Stir in the chocolate and then sieve the flour, ground almonds and bicarbonate of soda into the mixture and carefully fold together. Add the chopped nuts and pour the brownie mixture into the prepared baking tray. Bake in the centre of the oven for 25-30 minutes. after which time the surface should just be starting to crack.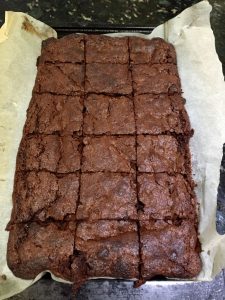 Remove from the oven and leave to cool slightly before cutting it into squares. The brownies are delicious served slightly warm with a large scoop of vanilla ice cream.