Autumn brings a wonderful variety of fruit and vegetables to the table and one of my favourites has got to be 'wet' walnuts. Their creamy delicate texture is something quite different to the drier version you have at Christmas. Used in baking, they totally transform the classic coffee and walnut cake into something which is deliciously moist and utterly divine.. transporting it to quite a different level of yumminess. Theo Randell makes a delicious autumn pesto using wet walnuts and parsley and milk, it sounds a bit odd I know, but somehow it works incredibly well.
I have been munching on these walnuts for the past fortnight. They have a slightly milky, subtle nutty flavour which are incredibly moreish. The season is short however so buy them now as they are only available for a few weeks.
Purple sprouting broccoli is also in season. If you can buy it freshly picked from a local farm shop, you can use the stem,  which won't be hard and woody. (The stem tends to dry out and become tough the older it is, so,  fresh is best). Being a frugal soul I like to try and use as much of the vegetable as possible, so its great if you can incorporate the stem and the florets into the same dish. If the stem is a little tough its a good idea to blanch* them first if you are going to grill or stir fry them.
I made this dish over the weekend having been inspired by what was available in my local greengrocer. The sweetness of the heritage carrots, mixed with the  slightly crunchy charred broccoli and milky texture of the walnuts, all work very well together. I have also added a little goats cheese for added saltiness (if you are vegan or don't like cheese just omit it).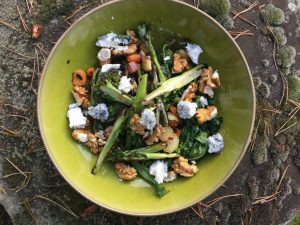 Autumn salad of purple sprouting broccoli,'wet' walnuts and heritage carrots 
Difficulty: easy                     Serving: 2
6-8 wet walnuts
6 spears of purple sprouting broccoli
4 small heritage carrots peeled and sliced
1/4tsp chilli flakes
1 cloves garlic crushed
1tbsp olive oil
2tsp walnut oil
30-40g soft goats cheese (selles de chèvre works well)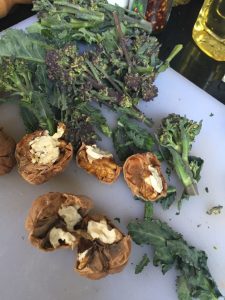 Crack the walnuts and remove the soft nuts.
Cut the stems off the broccoli spears and slice the stems horizontally. Place a large pan of water onto boil and blanch the stems and florets for 1 minute in the water then refresh in cold water. Drain well on kitchen paper and season with salt and pepper. Heat a large griddle pan, brush with a little light olive oil/sunflower oil and griddle the broccoli stems and florets for 2-3 minutes either side. Remove from the pan and reserve.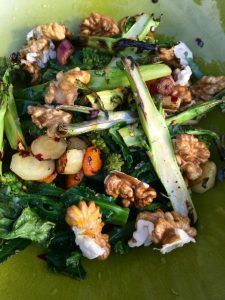 Fry the carrots in the olive oil for 2-3 minutes either side till they have turned golden in colour and are just beginning to soften. Add the garlic, chilli and a pinch of salt, toss well and cook over a medium heat for another minute then remove and place in a bowl with the broccoli and walnuts.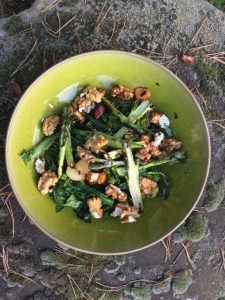 Drizzle over a little walnut oil. Check the seasoning and add the goats cheese  (if using)and serve.