Homemade soup is a fantastic way of using up various bits of leftover meat, fish and vegetables which have been lurking in the back of the fridge. Blitzed together they are a fast, easy and frugal way of making a quick meal. However, in order to ensure that the soup is not some sad reminiscence of last nights dinner, always try to add some new fresh ingredients to spice it up.  Fresh herbs and pesto for example are a great addition to soups. A sprinkling of Parmesan, blue cheese can give a wonderful saltiness to sometimes rather bland vegetable soup. For texture and a to add a bit of crunch, fried croutons, crispy fried onions  or homemade crisps are a great toppings, and to add rich velveteen finish, swirl in dollop of yogurt or cream at the end. ( The joy of lentils; Hot and spicy lentil and chilli soup with mint and yogurt ).
When making minestrone you will find there are many different recipes. Often the soup contains pasta or noodles to make it more substantial. I prefer to use pulses or beans for sustenance, they add more flavour and give a wonderful 'heartiness' to the soup making it much more fulfilling. (And has the benefit of being gluten free as well). Minestrone soup is also a great and really tasty way of getting the kids to eat more vegetables.
In summer minetrone can be made using the early baby green vegetables. This makes a lovely fresh and light soup which is just bursting with flavours of spring and early summer.  (See my recipe for Green minestrone with fresh pesto ).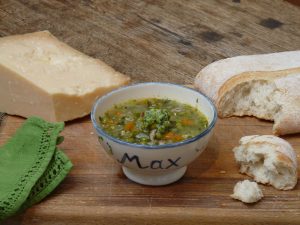 Now in autumn I prefer to use tomatoes and peppers giving the minestrone a wonderfully rich earthy taste and if you like to add a bit of a kick to your soup you can always add an extra chilli or two. In the recipe below I have not added any beans making the soup a little lighter but you can add a tin of cannnellini beans if you need more sustenance.
Gluten free red minestrone recipe ,with basil and Parmesan 
Difficulty : easy                                                       Serving :4
1tbsp olive oil
1 red pepper seeds, removed and cut into dice sized pieces
1 yellow pepper, seeds removed and cut into dice sized pieces
1 onion finely chopped
2 sticks celery finely chopped
1 clove garlic crushed
1/2 tsp dried chilli flakes
1 large carrot peeled and cut into dice sized pieces
2 courgettes cut into dice sized pieces
300g tomato passata
1 cup of cherry tomatoes halved (or 4 plum tomatoes chopped)
1 small bunch basil
Parmesan for grating
Fry the onion and celery in the olive oil for 3-4 minutes over a medium heat. Add the peppers and carrot and continue to fry for another 2-3 minutes then add the chilli and garlic and cook for 30 seconds.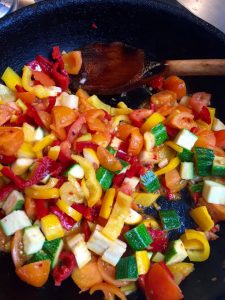 Add the courgettes, chopped tomatoes and passata and 2 cups of water and turn up the heat and bring to a simmer and cook for 10 minutes until the vegetables are just soft. Chop the basil and add to the soup and season well with salt and pepper. Pour into bowls and serve with a generous amount of grated Parmesan.