There is something really comforting about a really good fish pie. Soft flaky fish, coated in a rich  (sometimes) cheesy sauce, then topped with a gorgeous buttery mashed potato. It has been a staple meal in our family for many years.
Traditionally fish pie was made by first cooking the fish in milk. The fish infused milk was then used to make a white sauce which might then be flavoured with parsley or cheese. The cooked fish was placed in a dish and coated in the sauce, sometimes a few hard-boiled eggs were added, before topping the pie with mashed potato and baked in the oven. Delicious though this fish pie is, it's rather time consuming to make. So I have adapted the recipe to make a much quicker, lighter and I think tastier twist on the classic fish pie.
You can use any firm fleshed fish you fancy.  Haddock, cod, salmon, smoked or natural all work well. Shellfish such as prawns and scallops, or lobster if you are feeling particularly decadent. If you are on a budget, the raw fish pie 'mix'  from most supermarkets and good fishmongers is a more economical option.(My son at uni loves it). Whatever you use, always add some smoked fish to the pie as it really enhances the flavour.
*I have also given a recipe for gluten free white sauce at the bottom of this recipe which you can use instead of the traditional white /cheese sauce recipe.
Quick fish pie with spinach and tomatoes recipe
Difficulty: easy                    Serving:4
2 fillets of salmon
350g undyed smoked haddock
200g cherry tomatoes
300g spinach
1 cup breadcrumbs  ** for gluten free use gluten free bread
40g grated Parmesan
sea salt and black pepper
Cheese sauce
1 tbsp butter
1.5 tbsp plain flour
200 ml  hot milk
180 hot double cream
2tsp dijon mustard
2-3tbsp grated cheddar or Parmesan cheese
sea salt and black pepper
Make the sauce by melting the butter in a pan. Stir in the flour and cook for 2 minutes then slowly add the  hot milk and cream stirring till smooth. Cook for 1 minute then add the mustard and cheese and whisk till smooth. Season with a little salt and pepper.
Preheat the oven to 190C.
To make the pie. Remove the skin from the fish fillets and cut into 2cm pieces and place in a shallow gratin dish (approx 20x15cm). Cook the spinach in 1 cm water for 3 minutes until the leaves have wilted then refresh in cold water and squeeze out all the excess water. Dot the spinach over the fish and pour over the cheese sauce.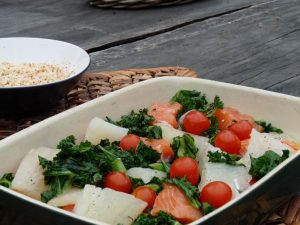 Sprinkle over the breadcrumbs and top with the cheese. Bake in the oven for 20-25 minutes until the top is golden brown and the sauce is bubbling. Remove and serve.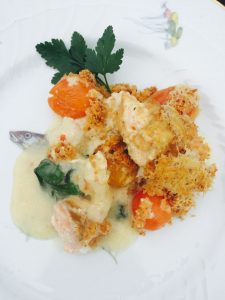 *Gluten free cheese sauce
2.5 tbsp corn flour
200ml  pint milk
180ml double cream
2tsp dijon mustard
2-3tbsp grated cheddar or Parmesan cheese
Mix the corn flour with a little milk.
Heat the rest of the milk with the cream and just before it boils add the cornflower (slaked) mixture . Whisk till smooth. Bring to the boil and cook for 1 minute until it starts to thicken. Add the mustard and cheese and cook for another minute. Remove from the heat and season with a little salt and pepper.
** To make breadcrumbs: Cut 4 slices of bread into quarters and place in a nutribullet or blender and blitz for a few seconds till they turn into breadcrumbs. (stale bread actually works better when making breadcrumbs).