I must confess that I'm not really a big bread eater so for me to rave on about any bread it really must be something rather special. So when I say I think I've found the perfect bread for making toasted sandwiches listen up, This is REALLY GOOD! Pane Pugliese is really yummy! Originating from Southern Italy, it is made from golden durum wheat milled in the region of Puglia. The wheat gives the bread a wonderful yellow crumb with a slightly chewy texture which is perfect when toasted for sweet and savoury snacks.
For a lazy weekend breakfast, try some Pane Pugliese 'eggy bread' Pain Perdu with Sticky Apples , or for a  teatime treat, simply toast Pain Pugliese and spread it with lashings of butter and blueberry jam. Simply delicious.
Found in good bakeries and Italian delicatessens, Waitrose is now also selling 'Crosta & Mollica Pane Pugliese (you will find it in yellow and white packaging). Unopened it will keep quite well for a few days although once opened it's quite hard to resist so doesn't last long!
So onto the recipe below. It came about whilst musing what to have for lunch today. I found the last slice of Pane Pugilese in the fruit bowl, which bizarrely contained more vegetables than fruit in it. Feeling somewhat peckish I rooted around through the bowl to see what I could use to make a sandwich, to use up that lonely slice of bread.
Grilled red pepper, tomato chilli sandwich with almond butter
Difficulty: easy                               Serves: 1
1 slice Pane Pugliese
1 red pepper sliced
1-2 tomatoes cut into quarters
1/2 red chilli finely chopped
1 small clove garlic crushed
1tbsp almond or peanut butter
a splash of olive oil and sea salt and black pepper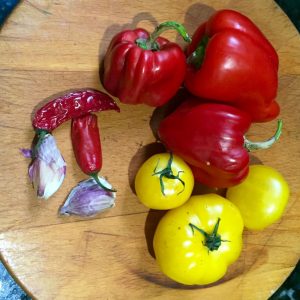 Fry the pepper in a splash of olive oil for 2-3 minutes till they soften and blacken slightly then remove from the pan and add the tomatoes  to the pan.  flesh side down and cook for a minute of two till they start to colour and the garlic and chilli and cook for 30 seconds then remove from the heat and season with salt and pepper.
Toast the bread.
To serve spread the toast with the almond butter and place the peppers and tomato garlic and chilli. Sprinkle over a little salt and enjoy.