I read in the paper today about cauliflower 'singing' to the farmers. In fact, if sources are true, they are singing greater than over the past 25 years. The 'singing' however, does not sound particularly operatic, rather more of a squeak. But the squeaking is loud this year! If you get up early this weekend and happen to have a cauliflower field near by you, check it out yourself, or you could just believe me, and be lazy, have a lie in and pour some milk into a bowl of rice crispies, it's supposed to sound just the same!
Whether the cauliflower is singing or not the good news is that due to this years unique growing conditions, cauliflower will be sweeter and tastier than ever, so its definitely worth buying.
Now that the humble cauliflower has at last caught up with the other brassicas and become trendy. Recipes are bountiful. Tasty mac'n cheese, spiced and roasted whole, blitzed into couscous, made into curry and even used as a pizza base, the versatility of cauliflower is endless. It's also nutritious and cheap, so I recommend you include it in your weekly shop.
Cauliflower on its own has a rather delicate, almost sweet flavour, but it also works incredibly well with spices. One of the first dishes my mother used to make me as a child, was sautéed cauliflower with crushed coriander seeds. This was my first introduction to the culinary world of spices and flavours or Asia.
So for my recipe for cauliflower this week I have served  the cauliflower al dente with just a hint of curry. The pomegranate gives the salad a wonderful zingy bite and the pistachio adds more flavour and texture. You can make it a few hours in advance so its great when entertaining especially, if you have the unexpected vegetarian guest showing up. (It can be a meal all unto itself).
Spiced cauliflower parsley and pomegranate salad with crispy onions, recipe
Difficulty : easy                    Serves: 4-6
1 small-medium cauliflower divided into florets then sliced into 1cm slices
2tsp curry powder
2tbsp sunflower/groundnut oil
1tbsp pomegranate molasses
1-2tsp toasted sesame oil
1 large pomegranate
80g pistachio nuts
1 red onion finely sliced
1 small bunch flat leaf parsley
sea salt and freshly ground black pepper
Mix the curry powder with 1tbsp sunflower oil and place in a bowl with the cauliflower and toss well.
Heat a large griddle pan till hot and cook the cauliflower for 2-3 minutes  till golden and turn over and cook for another 2 minutes till coloured, Remove from the pan and place in a bowl.
Fry the sliced onion in 1tbsp sunflower oil for 10 minutes over a medium to high heat till crisp and then leave to cool on kitchen paper.
Cut the pomegranate in half, and using the back of a wooden spoon bash the seeds out into the bowl.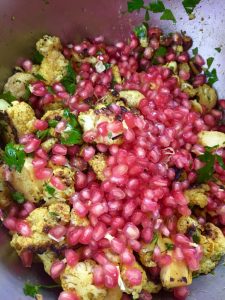 Toast the pistachio nuts in a dry frying pan for 1-2 minutes till they start to colour. Remove from the heat, leave to cool then coarsely chop and add to the bowl.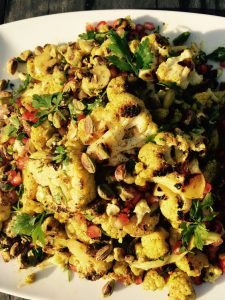 Chop the parsley and add to the bowl with the pomegranate molasses and sesame oil. Season with salt and pepper and mix well. Arrange on a plate and top with the crispy onions. Serve at room temperature with barbecued chicken or lamb. (Optional).