I don't know about you but I always seem to get a bit peckish late afternoon/early evening, usually craving for something a bit savoury. I'm trying to be a bit virtuous at present as I know that Christmas with all its glorious goodies are not far away so crisps and nuts are banned at the moment. However that doesn't stop the hunger cravings so I've been looking for some alternative things to graze on.
Dips with things to dunk in, (like raw vegetables if you are feeling particularly saintly!)  are always a good thing to have in your fridge. I find if I make a large batch of tatsiki or humous early on in the week it usually satiates those hunger pangs and stops me from snacking less healthy foods.
Delicious though humous and tatsiki are, its good to have a bit of variety and use other vegetables particularly when in season. In summer peas and young broad beans are delicious whizzed up with a little mint, olive oil and lemon zest. Baba ganoush made with roasted aubergines and garlic is also a very tasty alternative. Now almost winter,trying to be a seasonal cook, I thought I should make something from the the brassica family.
Romanesco is a wonderful vibrant lime green vegetable from the brassica family. Similar to the cauliflower, except for its wacky pointy florets (apparently a great example of phyllotaxis). It looks quite beautiful almost too perfect to eat.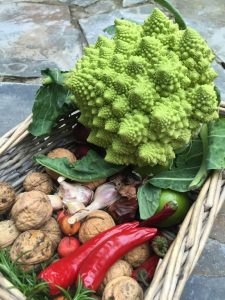 If served lightly steamed, it has a delicious slightly sweet and nutty flavour. Or you can add it to pasta with a little anchovy and chilli. Its also great in salads, or as an alternative to your traditional Mac'n cheese recipe.
Romanesco and mint dip recipe
Difficulty: easy                        Serves: 4-6
1/2 romanesco cut into florets
2tbsp tahini paste (I find the light variety works best)
juice of 1/2 lemon
a small handful of mint leaves
2tbsp olive oil
2tbsp cold water
sea salt and black pepper to taste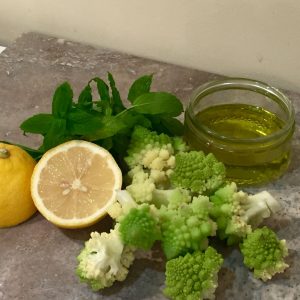 Blanch the romanesco florets in boiling water for 2 minutes then refresh immediately in cold water to stop cooking (this will keep the colour as well). Place the florets in a nutribullit/blender with the remaining ingredients and blitz till smooth. Taste adding a little more lemon/oil seasoning if necessary.
Serve with a selection of crudités or warm pitta breads. This will keep for 3-4 days in the fridge. If you are having friends over I like to put some in a little shot glass as eats.