There is something incredibly therapeutic and magical about preserving the seasons in a jar. Capturing that intense flavour of the fruit or vegetables at the perfect moment of ripeness, and then encapsulating it in a jar to enjoy later in the year. It is a joy to behold.
I start in late January and early February when Seville oranges come into season. Suddenly my kitchen is filled with pans of boiling fruit and sugar sputtering over the stove. Rich delicious smells of oranges and sugar permeating through the air. Later, my shelves are laden with jars of golden marmalade. Just resting in the cupboard, waiting to be opened and spread lavishly over hot buttered toast. I find the whole process incredibly satisfying and rewarding.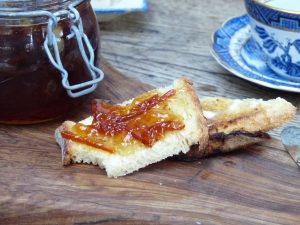 Preserves and pickles also make great presents. Now with ever extending family and friends I am trying to become a bit more organised and jams and chutneys throughout the year. So when Christmas comes, I have quite a hoard to distribute. In fact they are becoming so popular that friends are even putting their orders in November.
One of my most popular jellies is crab apple jelly. Which is delicious served with grilled meats and cheese (particularly goat's cheese) and amazing used on American classic peanut butter and jelly sandwich.
If you are lucky enough to have a crab apple tree in your garden, you will find that just one tree can produce enough crab apples for quite a few jars of jelly. The trick to making jelly is to have a little patience and let the cooked fruit and water drip slowly throw the jelly bag over night. This will then create a wonderfully sparking crystal clear jelly.
Crab apple jelly with rosemary and chilli recipe
Difficulty: medium                  Serving:6-8 small jars
1.35 kilos crab apples coarsely chopped
750ml water
600g castor sugar
4-5 sprigs rosemary
2 fresh red chillies deseeded and chopped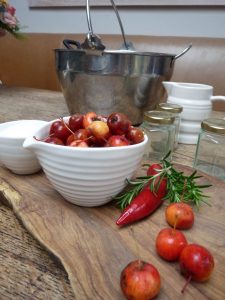 Place the crabapples in a large preserving pan with the water and bring to the boil. simmer for 45minutes to an hour until the fruit is soft.
Pour the contents of the pan into a dampened jelly bag and set to drain over a large bowl. Leave to drain for at least 12 hours or over night.
Sterilise the jars by placing clean jars on a roasting tray upright in the oven. Fill the tray 2cm deep with warm water and leave for 5 -10 minutes  at 100C to sterilise them. turn off the oven and keep warm.
Measure 960ml of the juice and transfer back to to preserving pan. Add the sugar and heat slowly until all the sugar has dissolved. Add the rosemary and chilli and bring to the boil and cook for about 25 minutes until jellying point is reached. Use a sugar thermometer for this, or alternately do the 'wrinkle test' by placing a teaspoon of the syrup on a cold saucer and put it in the freezer for 5 minutes. Then remove and if the syrup wrinkles when pushed with your finger the jelly is set.
Ladle the jelly into warm sterilised jars and seal.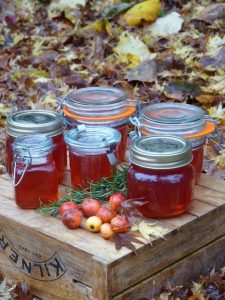 You may infuse the jelly with other herbs and spices. Another flavour I like to add to the chilly is star anise and chilli which I add to the jelly with the sugar. 4-5 star anise and 3-4 chopped hot chillis per batch.