We are completely spoilt with the wonderful cornucopia of fruit and vegetables that are available to us now. Although I am a firm believer of buying fruit and vegetables which are in season, It is also great to be able to buy fresh herbs and salad throughout the year. It's ironic that avocados were considered rather exotic thirty years ago, now we expect to have them available and perfectly ripe all year round.
I'm not complaining though,  I love waking up in the morning thinking I fancy cooking a bit of Thai food today and then being able to pop out and get all the fresh ingredients that I need.
The pomegranates are just coming into season now and are particularly juicy and luscious at present. Usually found in Middle Eastern cuisine I thought it would be good idea to mix it up a little, and use some Asian flavours instead. This  is a really quick and easy recipe using salmon, cucumber and pomegranate and takes only minutes to make.
Seared sesame salmon with cucumber and pomegranate salad recipe
Difficulty: easy              Serves: 4
4 fillets of salmon
1 large cucumber
1/2 large pomegranate
1.5 tbsp sesame seeds
1.5 tbsp soya sauce (low salt)
1.5 tbsp mirin
3tsp toasted sesame oil
2-3tsp white wine vinegar
2tbsp chopped coriander
sea salt and freshly ground black pepper
Mix the soya sauce and mirin together in a bowl and add the salmon fillets and mix well.
Peel the cucumber and discard the skin. Cut in half and using the vegetable peeler continue peeling the cucumber into ribbons, stopping when you reach the seeds. Place the ribbons in a bowl and add the vinegar and sesame oil and season well with sea salt and black pepper.Remove the seeds from the pomegranate and add to the cucumber with the chopped coriander.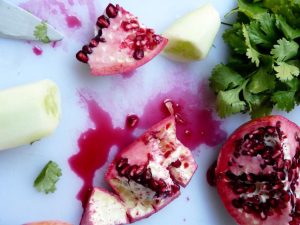 Preheat the grill to its highest setting. Remove the salmon fillets from the marinade and place on a baking tray. Place under the under the grill and cook for 3 minutes. Remove from the grill and sprinkle over the sesame seeds and return to the grill and cook for another 3-5 minutes (depending on the thickness of the fish)  Remove from grill.(The sesame seeds should just be turning a golden colour).
To serve, place a little salad on each plate and then using a fish slice carefully place the fish in the centre of each plate (I tend to remove the skin first).