I have been beavering away making loads of canapés this past week for various Christmas parties. Delicious though they are after spending a whole day wrapping, folding and baking, I fancied having something a bit more substantial for supper.
Usually when I opt for pasta I have linguine or spaghetti but I find for this recipe it's much better to use gnocchi sardi pasta as the little shell like pasta holds the rich tomato and chorizo sauce much better. You can usually find this pasta in good supermarkets and Italian delicatessen and since it's dried it's a great pasta to keep in the store cupboard. If you do not want to use chorizo you can use good quality tinned tuna instead or for a vegetarian option, just use the rich tomato sauce.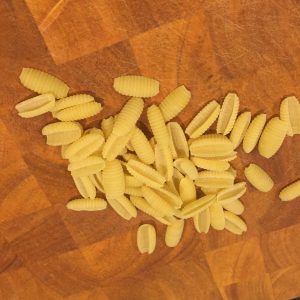 Gnocchi sardi with tomatoes and chorizo recipe
Difficulty: easy                        Serves: 2
150g gnocchi sardi (dried)
2-3 chorizo sausages (depending on how meaty you like your sauce)
1 can tinned tomatoes (400g)
2tsp tomato puree
1tbsp olive oil
1 small onion finely chopped
1 small carrot finely chopped
1 stick celery finely chopped
half a cup of Parmesan or Pecorino grated
Fry the onion celery and carrot in the olive oil over a low heat for 10 minutes until soft.
Remove the skin from the chorizo and cut into a small dice. Add to the frying pan and cook over medium heat for 3-4 minutes until the chorizo begins to colour. Add the tinned tomatoes and puree and cook for 5 minutes over a high heat. Add 1/2 cup of water and reduce the temperature to a simmer.
Whilst the sauce is simmering, cook the pasta in a large pan of boiling salted water. When the pasta is cooked, drain and add to the hot sauce. Remove from the heat and stir in the cheese.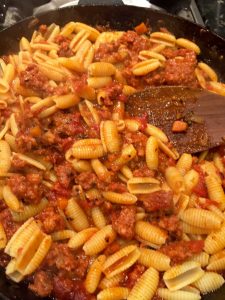 Serve with a little grated Parmesan on top.