There is something beautifully indulgent and at the same time quite comforting about cake. A lovely chocolate cake for tea puts a smile on your face and makes you happy. It's amazing, just a little bit of flour, butter, eggs and sugar is all you need to make everything good again.
When  my kids were little I  used to have great fun making novelty cakes for their birthdays.  Each year they would get more and more inventive. A chocolate football,  an ice cream fort , Popeye the sailor in his boat even Wallace and Gromet complete with sidecar. It was fun creating the cakes and even greater fun watching the surprise on their faces when they saw it.
Quite often I get requests for cakes with special dietary requirements; no eggs, no fat, no dairy, gluten free, they all create a challenge.  My gluten-free chocolate cake (Gluten and dairy free chocolate hazelnut and beetroot cake) and chocolate brownies (Chocolate, beetroot and pecan brownies) have so far been a huge success.
Now I have been asked to make a dairy and nut free cake (no eggs no butter and no nuts). This reminded me of the first cake I ever made, which was called cockeyed cake. The recipe came from an old American recipe book of my mothers called 'I hate to cook book' by Peg bracken. It has oil and vinegar instead of eggs and butter and uses bicarbonate of soda as the raising agent. It's extremely easy to make, just mix everything up in one bowl and then pop it in the oven. It's also deliciously moist and rich and has been a childhood favourite for many years. The recipe is so good I haven't changed a thing.
Cockeyed chocolate cake recipe 
Difficulty: easy                           Serves: 10-12
1.5 cups of plain flour
1 cup castor sugar
3tbsp cocoa
5tbsp sunflower oil
1tbsp white wine vinegar
1 cup water (minus 1tbsp)
1tsp bicarbonate soda
Preheat the oven to 175C.
Grease and line a 27.5cm (11″) round loose bottomed cake tin.
Sift the dry ingredients together into a bowl. Make three wells in the dry ingredients and pour in the oil, vinegar and water. Stir well and pour into the cake tin. Place the cake in the centre of the oven and bake for 30 minutes till cooked. (to test if the cake is ready spear the cake with a cocktail stick and it should come out clean). Remove from the oven and leave to cool in the tin.
Dairy free 'butter' coffee icing
2tsp instant coffee dissolved in 1tbsp hot water
120g dairy free butter (*or normal butter if not restricted)
250g icing sugar
Beat the dairy free butter. Sift in the icing sugar and add the dissolved coffee and mix well till smooth. Spread over the cooled cake and grate over a little dark chocolate if desired.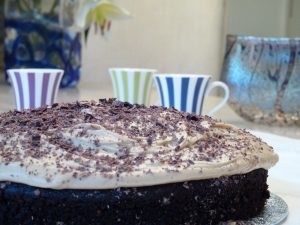 * When buying dairy free produce always check that they state that they are dairy free, as some almond milk butter and olive oil spreads can contain butter milk and other milk products.