Although I don't have much of a sweet tooth and I have always had a bit of a weakness for chocolate. When I was at school we used to play hockey in the winter time and my school just happened to be in the centre of York, home to two large chocolate factories. As we ran up and down the pitch chasing the ball great wafts of chocolate floated through the air. This was cruelty beyond belief.
Working with chocolate can be quite tricky if you need to start tempering it, however these chocolate truffles don't require tempering and are extremely easy to make. You can add any type of liqueur you fancy or if you prefer you can skip the alcohol altogether.  Vanilla, orange zest, cardamom  and even chilli are delicious alternatives so once you have mastered the basic truffle recipe go ahead and experiment.
Chocolate and amaretto truffles
Difficulty: easy                              Serves: about 20-25 truffles
300g dark chocolate broken into small pieces ( min 70% cocoa solids I find Willi' chocolate drops very good)
350ml double cream
2tbsp amaretto
2-3tbs cocoa powder
Warm the cream in a pan then add the chocolate drops/ broken chocolate and stir till it has all melted ( do not let the cream boil or get too hot). Remove from the heat and add the liqueur or flavouring ( if using chilli or cardamom you should infuse this in the cream first). Mix well and pour into a bowl and chill in the fridge for a minimum of 12hours.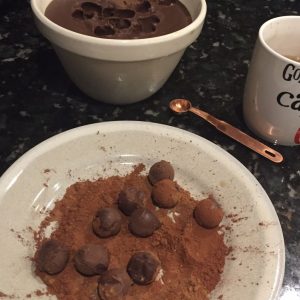 To make the truffles. Place the cocoa on a small plate. Take a melon baller (small spoon shaped like a tennis ball cut in half) place it in a cup of hot water then shake off any excess water and scoop out a little of the chocolate mixture to form a ball and place on athe cocoa plate. Repeat the process with the remaining truffle mixture. When you have  all the chocolate balls on a plate, gently shake the plate to toss the truffles in the cocoa powder. Store in an airtight container in the fridge till needed. They will keep up to a week in the fridge. They make fantastic gifts for friends if you can resist not eating them all yourself.