Just before Christmas I was lucky enough to sneak off to Kenya for a few days in preparation for the Christmas onslaught. I was staying at Peponi (peponi-lamu.com) on Lamu which does the most fabulous food. Carol the owner has managed to train the chefs to prepare the most delicious sushi,  traditional Swahili curries, Asian and traditional Western food which is very impressive.
The fish and vegetable dishes were so good I didn't eat meat for 2 weeks. So it was quite a shock to the digestive system when I returned to the traditional Christmas meat fest.
Now that all the Christmas festivities have subsided I have decided to give up meat for January (Saturday night steak night might prove to be a bit tricky but we'll see how I get on)!
Smoked haddock is a great fish to eat particularly in winter time when there isn't quite so much choice in the fishmongers. Line caught haddock is sustainable so try and look out for it in the shops. Sadly unless you can get your smoked haddock direct from a traditional smokery,(enderby grimsby ) there is no difference between the bright yellow smoked haddock and the undyed pale yellow version which now both use the same machine methods of smoking rather than over the traditional wood chips. That said, smoked haddock has a great flavour and wonderful  firm texture which is good in fish pie, fish cakes and baked or poached on its own.
I made this soup last week when I was teaching my father a few simple recipes to cook for my mother. As he is a complete novice when it comes to culinary matters it had to be something that was completely 'dad proof'! There is no chopping involved , only four ingredients,  so even he couldn't mess it up.
For those who have a dairy intolerance you can make it with alpro soya milk which works well (I sometimes add a splash of fish sauce to spice it up).
Smoked haddock and sweetcorn chowder recipe
Difficulty: easy                          Serves:2-3
230-250g smoked haddock fillet
500ml milk or alpro soya milk
326g (1 tin) sweetcorn (drained260g)
small bunch chives washed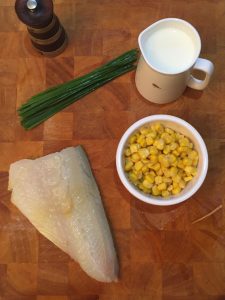 Place the fish fillet and milk in a pan and bring to the boil. As soon as it boils remove the pan from the heat and leave to stand for 10 minutes.
Peel the skin off the fish and discard. Place the fish,milk and sweetcorn in a blender and blend until smooth. Season with a little salt and freshly ground black pepper to taste. Using scissors, finely snip the chives into the soup and reheat. Serve with some crusty fresh bread or toast.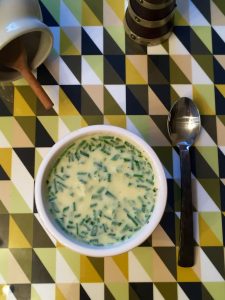 To make the soup a little more substantial you can add some prawns to the soup at the end.