I am always on the look out for new ingredients to add to salads and light lunches. A new vegetable, a fresh herb, a subtle spice or zingy fruit; whatever works. It's quite exciting searching out and experimenting, especially when I come across the perfect combination!
One of such ingredients, although by no means a new one, is Fregola, or to give it it's Sardinian name Pastio di Nuoro, which is a dry pasta made from semolina and water. These small round pasta shapes are traditionally cooked in a rich tomato sauce served with clams. They can also be added to soups and stews (absolutely delicious as an alternative to barley in Irish stew). I sometimes mix it with apricots, almonds and herbs and make it into a wonderful alternative stuffing for game birds in winter.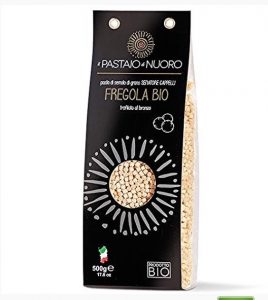 Fregola salad with romanesco and sautéed peppers recipe
Difficulty: easy                                     Serves:4
4 handfuls of fregola
1/2 a romanesco broken into small florets
1 red and 1 yellow pepper deseeded and cut into thin strips
2 tbsp chopped parsley
1tbsp pomegranate molasses
zest of a lime
1tbsp toasted sesame oil
1tbsp olive oil
sea salt and freshly ground black pepper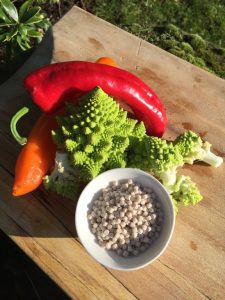 Sauté the peppers in the olive oil for 3-4 minutes until they begin to soften. Remove from the heat and place in a bowl.
Cook the fregola in boiling salted water for 7 minutes then add the romanesco florets to the pan and cook for a further 3-4 minutes, by which time the fregola should be just soft and the romanesco al dente.
Remove from the heat and place in a colander to drain. Rinse quickly under cold water and shake of the excess water and place in the bowl with the peppers.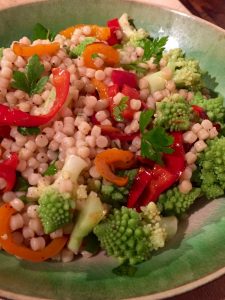 Pour on the sesame oil and pomegranate molasses and season to taste with salt and pepper. Grate over the lemon zest and sprinkle over the chopped parsley.
Serve on its own for a light lunch, or as a delicious side to barbecued chicken or lamb.