It's funny how little quirks and rituals seem to slip into family life, particularly where food is concerned. Fish on Friday, because I always pass the fishmonger on Friday's. Saturday night steak and sauté potatoes, so hubby can fire up the BBQ and Sunday night pasta just because… It's quick and easy and also I must confess I quite like a good bottle of Brunello on a Sunday night, and if I cook a tasty bowl of pasta I can usually persuade my husband to open one!
Returning home late last night after a rather treacherous windy and wet drive back to London, pasta and vino was definitely what I needed. Something warm and comforting, not too heavy to digest and most importantly quick to make. Spaghetti with sweet peppers and tomatoes was the perfect choice particularly when accompanied by an excellent bottle of Fuglini 2010.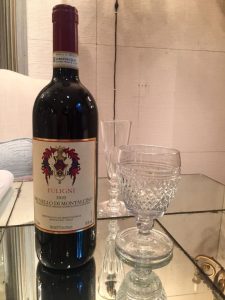 Spaghetti with sweet peppers tomato and chilli recipe
Difficulty: easy                     Serves:4
320g dried spaghetti
300g cherry tomatoes halved
4 salad tomatoes chopped
3 sweet red peppers deseeded and thinly sliced (use the long thin sweet peppers if you can)
2 large cloves garlic crushed
1-2 red finger chillies deseeded and finely chopped ( depending how hot you like your sauce)
1tbsp olive oil
sea salt and freshly ground black pepper
Sauté the peppers in the oil oil over a medium heat for about 5 minutes until they begin to soften. Add the garlic and chilli toss well then add the tomatoes and cook for another 3-4 minutes until the tomatoes Just begin to soften. Turn off the heat and season with salt and pepper.
Cook the spaghetti in a large pan of boiling salted water till al dente(check packet instructions usually about 11minutes). Just before you drain the pasta start reheating the pasta sauce.  Drain the pasta reserving 1/3cup of the pasta water. Add the pasta and reserved water to the sauce and toss well. Devide between four bowls and serve with some freshly grated Parmesan or Pecorino.