I haven't posted a sweet recipe for a while, but as it is Valentine's weekend, I thought it would be the perfect time to make some sweet biscuits. Naturally given the occasion, chocolate must be involved…
The biscuits I've chosen are a little twist on what we used to call 'Refrigerator biscuits' as kids. My mother used to wrap little logs of uncooked cookie dough in clingfilm, and then leave them to 'rest' in the fridge. Just before teatime she would whip them out, slice them up, and pop them in the aga to bake. Half and hour later we would be dunking delicious warm biscuits in our tea.
Refrigerator biscuits are one of the easiest biscuits to make. The basic dough usually is made from mixing flour, butter and sugar to form a dough. Delicious left plain, you can also get your creative juices flowing and experiment with many different flavours; orange or lemon zest, spices such as cinnamon or cardamom or even herbs like lavender or thyme all are tasty additions. Batches of cookie dough can also be frozen, just take them out 10 minutes or so before you need them to make slicing easier.
To make these biscuits into "Valentine' shapes I have rolled the chilled logs and then cut them into shapes.
Valentine chocolate and hazelnut shortbread recipe
Difficulty: easy                              Makes: 40 biscuits
220g butter
240g plain flour
25g ground rice (you can make this by placing short grain rice in grinder)
35g icing sugar
60g toasted hazelnuts
1/2tsp vanilla essence
1 egg lightly beaten
2tbsp vanilla or cinnamon sugar
80g dark chocolate (min 70%)
Place the flour, icing sugar, essence, ground rice and butter in a food processor or electric mixer (with beater attachment) and mix till it forms fine breadcrumbs. Mix again till it starts to come together to form a dryish paste. It is important not to over mix or the shortbread will be tough. Divide the mixture into two and lightly roll into two logs about 3cm in diameter. Wrap in cling film and chill for an hour in the fridge.


Whilst the dough is chilling, use a mortar and pestle to gently crush the hazelnuts (not to finely) and place on a plate.
Remove the clingfilm from the logs and brush with the beaten egg.*Roll in the chopped hazelnuts and then wrap again in clingfilm and chill  for another 20 minutes in the fridge.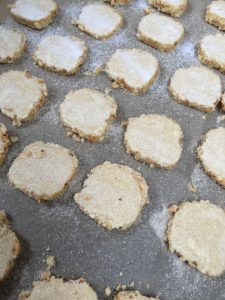 *If making Valentine shape biscuits roll out the mixture to 5mm and cut into shapes, brush half of each biscuit with the beaten egg and coat in hazelnuts then place on a baking sheet lined with baking paper and chill in the fridge for another 20 minutes.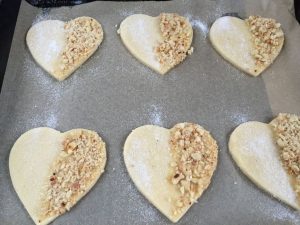 Preheat the oven to 150C. Remove the cling film from the logs and cut into rounds 5mm thick. Place them on a baking tray lined with baking parchment  and dust with the sugar and bake for 15-20 minutes until very pale golden brown. Remove from the oven and leave to cool.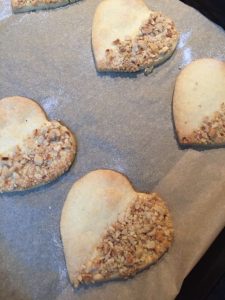 Break up the chocolate and place in a bowl over simmering water and leave to melt. Dip, or drizzle half of the biscuits with the chocolate, and place back on the parchment paper and leave to cool.
When cool, remove the biscuits from the parchment, and store in a sealed jar for up to one week.