I love peas and they are one of the few vegetables which taste pretty good from frozen. Don't get me wrong, there is something utterly devine about eating freshly picked baby peas direct from their pod, but if you are in a hurry or cooking in large quantities or it's the middle of winter, frozen peas and dare I say www.birdseye.co.uk/ are the best, and much quicker to prepare. I always keep a bag in the freezer.
These pea, mint and feta toasts are delicious and fresh to eat. Perfect for a light snack or served with drinks. However for the gluten free amongst us just skip the toast and have it as a really tasty salad instead.
Crushed pea mint and feta toasts.
Difficulty: easy                              Serves: 6-8 for canapés or 2-3 as a salad
300g frozen peas
1 clove garlic
25g (1 small bunch) mint stalks removed and chopped
3tbsp golden rapeseed oil
120g feta crumbled
1 small baguette
zest and juice of a lemon
sea salt and freshly ground black pepper
a little cress or pea shoots to garnish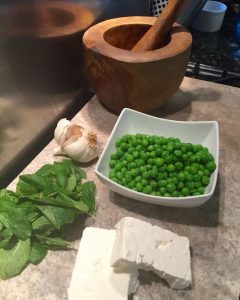 Cook the peas for 1 minutes in boiling water for 1 minutes, drain and quickly rinse under cold water and reserve.
Place the garlic, mint and a pinch of salt in a mortar and pound until crushed. Remove and place in a nutribullit/blender with the peas and blitz till it is a rough paste (you still want some big pieces of peas left). Remove from the blender and place in a bowl and add the oil and lemon zest and juice to taste, and season with salt and pepper. Stir in the crumbled feta and sprinkle over a few pea shoots or cress. Serve on freshly toasted baguette or sour dough.