Recently my daughter has been pestering me to post some ramen recipes as she was looking for some inspiration for some healthy light lunches to take to work. So I thought it would be a good time to experiment a little and see if she approves.
Ramen is a noodle soup originating from Japan. It may consist of just a simple bowl of noodles cooked in a broth often found on street markets or it can be quite elaborately presented in high class restaurants. It has become so popular that Ramen has now spread all over the world, different countries each adding their own particular twist to the dish.
The two most important things about making ramen are the broth  and the noodles. The broth or clear soup must have a good clean flavour which is then enhanced with miso, soy sauce (shyoyu) and salt. I find that a good homemade chicken, pork, veal or vegetable stock works well for this, and also dashi made from kombo (kelp) and dried bonito flakes is  excellent if you are making a seafood ramen.
Now for the noodles. Fresh noodles are the best but you can use instant noodles (chuka soba noodles) or reconstituted udon noodles if you prefer. For those that are gluten free the 100% buckwheat soba noodles work well but do check the label to make sure they are gluten free as some are not.
Basic ramen broth recipe
Difficulty:easy                    Serves:4
1.2 litres of good pork, chicken, veal, vegetable or dashi stock (depending on type of ramen you are making)
2 slices ginger
1 cloves garlic peeled
2tbsp soya sauce
2 tbsp sake
4x 5cm green parts of spring onions
a few drops of sesame oil
Simmer all the ingredients together for 10 minutes then check for seasoning (adding more soya sauce or a pinch of salt if needed). Strain through a fine sieve and reserve.
Noodles
Allow 40-50g of dried noodles per person. In the recipes below I have used buckwheat soba noodles and brown rice udon noodles (from Clearspring).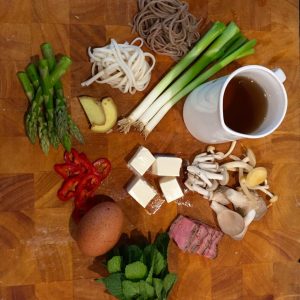 Mushroom and asparagus ramen with brown rice udon noodles
difficulty: easy             Serves;1
1 handful of oriental mushrooms, (enoki, shiitake, oyster or willow are some examples)
6 asparagus spears halved horizontally
1 egg soft boiled
1/2tsp grated ginger
2 spring onions finely sliced
40g  brown rice soba noodles
200ml  boiling basic ramen broth (using vegetable or chicken  stock)
Sesame oil, umami rush or nanami togarashi for seasoning
Cook the noodles in boiling water for 9-10 minutes till just soft, then rinse under cold water and drain.
Arrange all the ingredients in a warmed bowl, and pour over the hot stock. Leave to sit for 1 minute for the flavours to infuse. Season with a few drops of sesame oil, unami rush or nanami togarashi ( Japanese chilli pepper) to taste.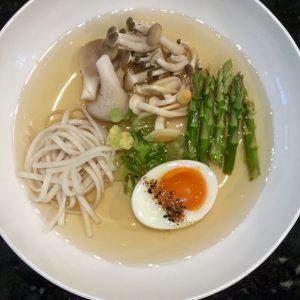 Seared Teriyaki beef with sweet pepper and buckwheat noodles.
Difficulty: easy                     Serves:2
120g sirloin steak trimmed
1tbsp teryaki marinade
1/2 sweet red pepper thinly sliced
8-10 asparagus spears sliced horizontally
1 small handful mint finely chopped
1 soft boiled egg
3-4 spring onions finely sliced
75g buckwheat noodles
450ml very hot/boiling chicken or veal stock
zest of a lime
a few drops of sesame oil and togarashi seasoning
Rub a few drops of sesame oil onto the steak season with the teriyaki marinade. Allow to marinate for 10 minutes whilst you prepare the remaining ingredients for the ramen. heat a griddle or frying pan then sauté  the steak for 2 minutes, turn over and fry for another minute and turn off the heat. (The steak want to be quite pink).
Cook the noodles for 5 -6 minutes until just soft, then rinse under cold water and drain.
Thinly slice the steak and arrange in the bowls with the peppers, noodles, mint, asparagus and egg. Pour over the hot stock and grate over the lime zest add a few drops of sesame oil to each bowl before serving.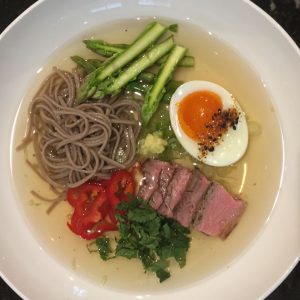 Tofu, enoki asparagus and pepper ramen with nori and buckwheat noodles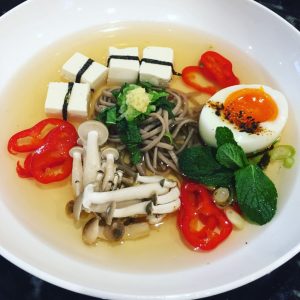 Green ramen with radish, asparagus, mushroom and courgette noodles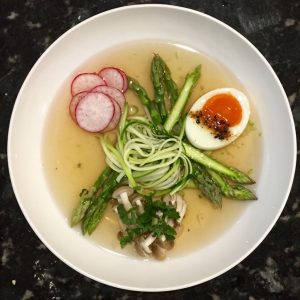 The recipes got the seal of approval from my daughter and this is what she took to work the next day.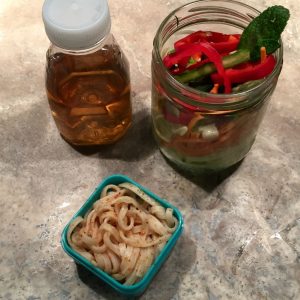 The best thing about ramen is the total freedom in choosing ingredients, mixing and matching your favourite flavours. What I have done in the recipes above is to offer you some different lighter options but these are by no means strict rules. I will post some heartier ramen dishes soon.
So play around, have fun, and see what you can come up with.