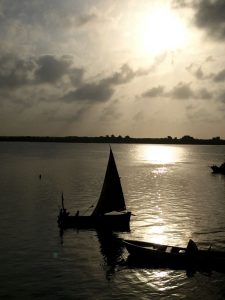 Looking outside at my white frosty lawn this morning I was reminiscing about my about my trip to Africa just before Christmas. I stayed at the wonderful Peponi hotel (http://www.peponi-lamu.com). Every evening we would take a dhow and meander gently through the mangrove swamps. Drinking sundowners, whilst  watching the sun slowly drift below the horizon. Our skipper Sultan would then produce these deliciously warm samosas filled with delicately spiced vegetables, that his wife had just baked for us. What could be more perfect?
So in memory of these wonderful tasty little parcels I have tried to recreate these samosas, only this time instead of frying them I have baked them in the oven which will make them healthier. They are fantastic eaten as a light snack or a perfect addition to the kids lunch box.
Healthy vegetable samosas
Difficulty: medium                     Serves: 8 samosas
1 pkt filo pastry
sunflower oil or groundnut oil for brushing
Filling
1 sweet potato grated
1   large carrot diced
40 chick peas
1 clove garlic crushed
50g peas
1 medium onion diced
2 handfuls spinach
2 kaffir lime leaves  (optional)
1cup of water
30g fresh coriander chopped
1tsp curry powder
1tsp green chilli paste or a few drops of green chilli sauce
Salt and freshly ground black pepper
For the filling: Sweat the potatoes and onion in a pan with a little oil for 5 minutes then add the curry powder, garlic and chilli paste mix well and cook for another 2 minutes minute before adding the remainder of ingredients. (except the coriander). Cook gently over a low heat for another 8-10minutes until the vegetable are soft. Season will a little salt and pepper and stir in the chopped coriander and season well. remove the kaffir lime leaf leaves before making the samosas.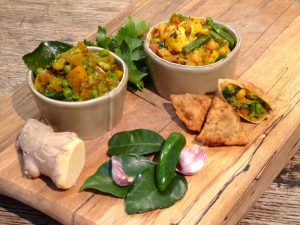 To make the samosas/filos: Take a sheet of filo pastry and brush lightly with sunflower oil. Divide the sheet into three long strips (horizontally). Place a heaped dessertspoonful of the filo mixture at one end of the strip and fold the corner over to form a triangular shape. Keep wrapping the triangle until the entire strip is used. Brush a little more oil over the filo to seal the edges and repeat the process with the remainder of the samosas mixture and filo pastry.
These can be kept in the fridge uncooked,for a couple of days or frozen until required.
To cook, place in a preheated oven at 190oc and bake for 10-12 minutes until golden brown. Serve with sweet chilli dipping sauce.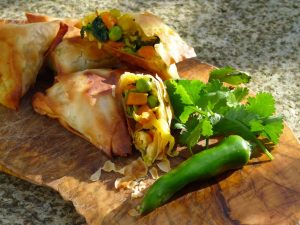 You can experiment with different fillings and spices, I personally love the vegetable ones but you can add fish or meat and vary the veg to what's available.