Blood oranges are particularly good at this time of year. Their juicy bright vermillion flesh has a slighter sharper taste than the Valencia or Navel varieties.
A little interesting fact about these delicious oranges. They were first discovered in a Sicilian orange orchard back in the fifteenth century. Believed to have arisen from a lucky mutation of the sweet orange ( citrus sinensis) these delicious fruits evolved. The beautiful flesh can vary from a deep Crimson to a rich terracotta depending on the levels of Anthocyanin (a water soluble pigment found in many red blue and purple plants) in the plant.
I often use these gorgeous oranges to make blood orange sorbet. Their rich Burgundian colour looks fantastic and their flavour is much more refreshing than the traditional sweet orange. They are also delicious in tarts and make a sensational Sicilian orange and almond cake.
For this recipe I thought I would use the blood oranges for something savoury. Their slightly acidic flavour works really well with the avocado. Curly endive (frisée) is a pretty slightly bitter leaved salad which can be found in good greengrocers. If you can't find curly endive, you could use  Chicory or watercress instead.
Blood orange avocado and  curly endive salad recipe
Difficulty:easy.                   Serves:4
2 ripe avocados
3-4 blood oranges
1 curly endive lettuce washed
2tbsp walnut oil
1tbsp wine vinegar
1tsp Dijon mustard
sea salt and freshly ground black pepper
Place the mustard in a bowl and whisk in the oil and vinegar to form a dressing. Season with a little salt and pepper to taste.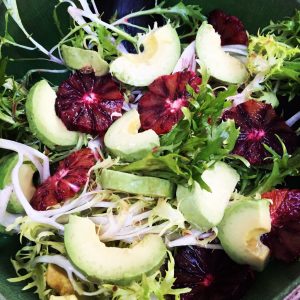 Using a sharp knife remove the peel and the pith from the orange and cut into slices. Place in the bowl with the dressing. Cut the avocados in half, remove the stone and  peel off the skin.   Cut into slices and add to the oranges. Add the curly endive (you may not need the whole lettuce) and toss well. Serve on its own or with grilled fish chicken.