There is something really special, comforting and utterly delicious about chocolate chip cookies.
When baked they need to be packed full of luscious chunks of chocolate. I do mean chunks, not the tiny little drops that you find on the baking aisles in supermarkets; proper pieces of chocolate which, when you eat the biscuits fresh from the oven, means you end up with heavenly melted chocolate in every bite. Although I must confess, I have made them with chocolate buttons before, particularly the giant ones which taste surprisingly delicious!
Another tip when making chocolate chip cookies is to slightly under bake them, which leaves them with the perfect, slightly gooey centre.  Unlike the classic English biscuit, your cookie wants to be a little bit soft and squishy on the inside.
Once you get the chocolate-y,  gooey, crunchy bit just right, there really is no better cookie. You can stick with just one type of chocolate for your basic tasty cookie, but if you fancy a bit of a chocolate blast,  you can triple the amount of chocolate, adding white, dark and milk for a mega chocolate-y taste.
In the recipe below I have added some freeze dried raspberries and toasted hazelnuts for that extra fruity, nutty flavour.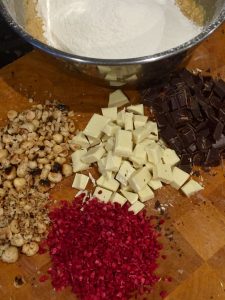 White and dark chocolate cookies with hazelnut and raspberries recipe
Difficulty: Easy                                                  Makes: 20-24 cookies
150g self raising flour
60g castor sugar
60g soft brown sugar
1 egg
120g soft butter (at room temperature)
1/2 tsp baking powder
80g dark chocolate cut into chunks
80g white chocolate cut into chunks
9g freeze dried raspberries
70g blanched whole hazelnuts
————————————————–
Grease and line two baking trays with baking parchment.
Preheat the oven to 180C (or 170C for fan ovens).
Toast the hazelnuts in a dry pan for 2-3 minutes until they start to colour. remove from the pan and leave to cool then roughly chop.
Cream the butter and sugar together.
Sift the flour and baking powder into the creamed butter and mix well.
Stir in the rest of the ingredients then drop spoonfuls of the mixture onto the lined baking trays and bake into the oven for 8-10 minutes until golden brown.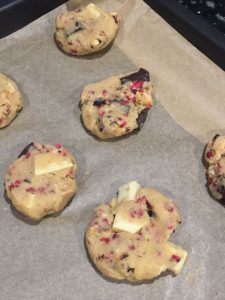 Remove from the oven and leave to cool on a wire rack. The biscuits will keep for a week in an air tight container if you can resist eating them.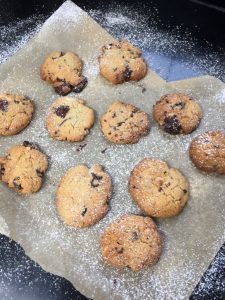 Fot the basic chocolate chip cookie recipe just omit the hazelnuts and raspberries. Why not experiment with other dried fruits or nuts?