I had a bit of a glut of carrots the other day so I was trying to figure out the best way to use them up. Too hot to make soup, and delicious though carrot cake is, I really fancied making something savoury.
These carrot and cumin fritters are perfect and so versatile too. Served on their own they're great in a lunch bow,or with a little salad for a light lunch. I've also served them as the 'carb alternative fab with grilled fish or BBQ meat; and recently I've made mini bite sized ones for cocktails.
The fritters can also be made in advance and reheated when you need them, so great when you have a group of people. The gram flour is made from Chana Dal (yellow lentils) and is widely available in supermarkets in the 'Asian' food section.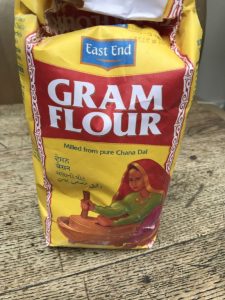 Easy Carrot and Cumin fritters
Difficulty : Easy Serves: 4-6
2 large carrots peeled and coarsely grated (approx 150g net weight)
1/2 onion finely chopped
1level tbsp freshly ground cumin
2tsp ground coriander
1/2 tsp paprika
1tsp fennel seeds
100g g gram flour
1tsp baking powder
a pinch of salt and freshly ground black pepper
1tbsp chopped fresh coriander
1/2-1 cup cold water
sunflower or ground nut oil for frying
Place the carrots and onion in a bowl and add the spices and fresh coriander and mix well. Sieve in the flour and baking powder. Mix together and make a well in the centre. Add half a cup of water and combine together. The batter should have the consistency of a heavy cream, add a little more water if necessary.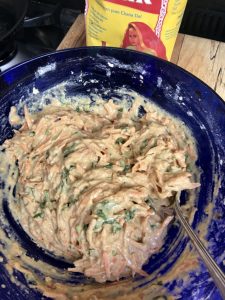 Heat 2 tbsp of oil in a large heavy based frying pan then take a small tablespoon (or teaspoonful if making canapés ) of the mixture and carefully drop it into the oil. Make 3-4 pancakes at a time taking care not to overcrowd the pan.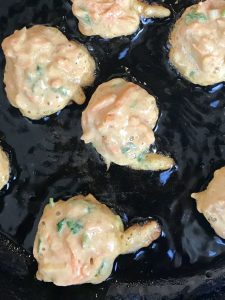 Cook the fritters for about a minute or two until bubbles start to form, then carefully flip them over and cook for about another minute. Remove from the pan a place on kitchen paper and keep warm. Repeat the process with the remaining batter. *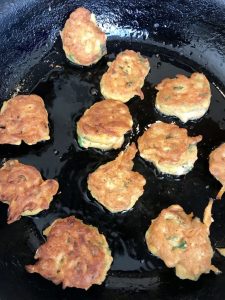 To serve. Place two fritters on a plate garnish with the herb salad.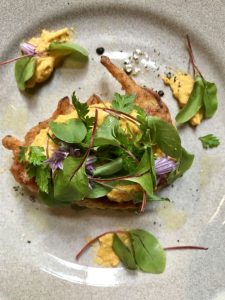 *The fritters maybe be made up to a day in advance and reheated on a baking tray at 180C for 6-8 minutes).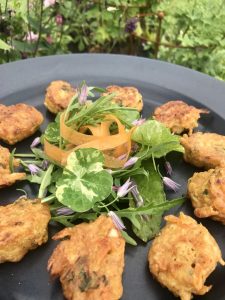 Herb salad
2 handful of mixed salad leaves(rocket, watercress, nasturtium leaves, baby salad leaves)
1tbsp coriander leaves
1tsp pomegranate molasses
2tsp toasted sesame oil
sea salt and freshly ground black pepper
Place the leaves in a bowl and pour over the oil and molasses and season with a little sea salt and black pepper. Toss well before serving.
For a more substantial lunch I like to top the fritters with some homemade carrot hummus made with roasted carrots, chick peas and tahini and cumin.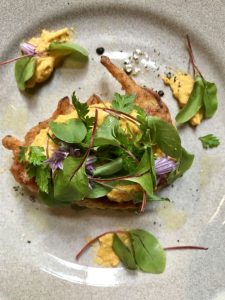 Carrot and chickpea hummus
3 carrots
100g chick peas
1tbsp tahini
1tsp group cumin
juice of a small lemon 2tbsp cold water
sea salt and freshly ground black pepper2tsp olive oil
Preheat the oven to 200C. Peel the carrots and cut into quarters lengthways. Toss in the oil and sprinkle over a little salt and black pepper. Roast in the oven for about 20 minutes till soft and golden brown,
When cooked remove from the oven and place in a food processor with the remaining ingredients and blitz till smooth. Taste for seasoning, adding more salt and pepper if needed. Store in the fridge in a glass jar or airtight container.