I got a little over zealous making risotto the other day, and ended up having quite a lot leftover. Never one to throw good food out, I made some delicious Arancini balls with the leftovers.
Arancini (which literally translated means "oranges of rice") are deep fried little balls of risotto. Often filled with cheese, ground meat or vegetables; they are a great way to use up any leftover risotto from the night before.
You need to eat them straight away so they taste fresh and light, so they are best served as an antipasto or for a light lunch with salad. I usually make a rich tomato or sauce or chutney to go with them. Romesco sauce made from roast peppers and almonds goes really well too (even though it's Spanish!)
In Italy the shape of these balls can vary from region to region. In Sicily they look more like rounded pyramids and in Rome they serve Suppli  or Arancini which are wonderful oval shaped croquettes filled with mozzarella cheese.
When making these balls always make sure the risotto is really cold. This will help in shaping the balls. (I also find if you use slightly wet hands the rice doesn't stick to your hands so much). Always fry in small batches so that the temperature of the oil does not drop. You can make this out of any leftover risotto.
Crispy fried green risotto balls (Arancini di riso) recipe
Difficutly : Moderate                                                serves: 4 (8 balls)
2 cups of leftover risotto
1 egg beaten
3tbsp breadcrumbs
80g mozzarella cut into 1cm cubes
2tbsp plain flour seasoned with a little salt and pepper
sunflower or vegetable oil for deep frying
Dampen you hands with a little cold water and take a ping pong ball amount of rice and roll it into a ball. Using your thump gently press down on the ball to form a hole and insert a piece of mozzarella. Take 1/2tsp more rice and cover the hole and roll into a ball. Repeat the process with the remaining risotto.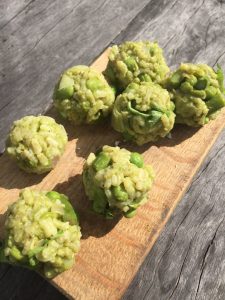 Chill the balls for half an hour.
Place the flour, eggs and breadcrumbs on 3 separate plates. Then taking one ball at a time roll gently in the flour, then dip in the egg and roll in the breadcrumbs and place on a plate. Repeat the process with all the balls then chill for at least 20 minutes before frying.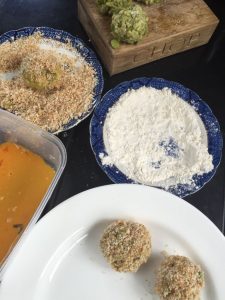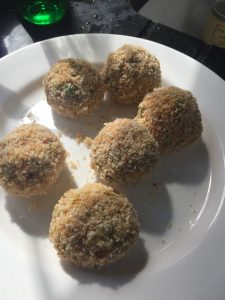 Using a deep fryer or saucepan  just under half filled with oil, heat to 350C. Cook the balls in batches, 3-4 at a time.(Taking care when placing them into the hot oil). Deep fry for 3-4 minutes, turning over once, until they are golden brown. Remove from the oil and drain on kitchen paper and keep warm. Once they are all cooked, serve them immediately with chutney or a rich tomato sauce.