After weeks of cold and dreary weather the sun is finally beginning to appear. It's amazing how good little bit of blue sky and sunshine can make you feel. Gone are the warming winter soups and stews, now its time for salads and and dare I say barbecues…
When making salads, I always like to make them visually appealing, of course they have to taste good but,  we eat with our eyes first, so make them look good.
Edible flowers are a great addition to salads; not only are they extremely decorative, adding colour and vibrancy, but also they taste good. The vibrant orange and yellow petals of the nasturtium have a wonderful peppery tang whereas the beautiful blue blossom of chives add a subtle onion taste and marigolds have a slightly citrusy flavour.
For this salad, I like to use yellow and green courgettes  to add colour,  but if only green are available don't worry, it will taste just as good.
Courgette Mushroom and Chive salad with zingy mustard dressing recipe
Difficulty: Easy                                         Serves: 4
300g white button mushrooms
1 green and 1 yellow medium sized courgette
2tsp dijon mustard
zest and juice of a lemon
1tbsp mayonaise/* or use yogurt if vegan
1tbsp olive oil
small bunch chives finely chopped
small handful of chive or viola petals
sea salt and freshly ground black pepper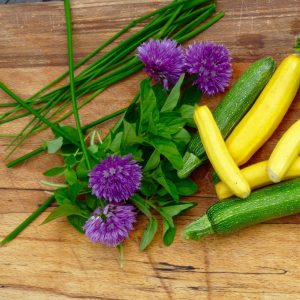 Mix the mustard with the mayonnaise, oil and juice of half a lemon. Season with a little salt and pepper and add a little more lemon juice if necessary, as lemons can vary quite considerably on their juiciness.
Thinly slice the mushrooms and courgettes and place in a bowl.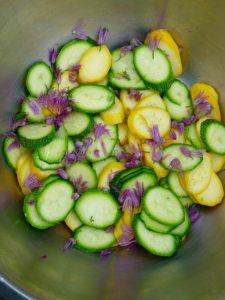 Add the chopped chives and half of the chive flowers and stir in the dressing. Mix well and season to taste.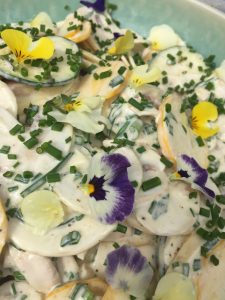 Place in a pretty bowl and sprinkle over the remaining flowers.