Having just come back from Italy I'm still buzzing from all the delicious markets and food shops that I visited. Even in the remote foothills of the Sibillini mountains in Le Marche, you can still find the most wonderful selection of locally grown fruit and vegetables.
We all know Italian tomatoes are amazingly sweet and juicy; so completely different from our English counterparts. Their melons are also incredibly delicious: it's easy to see why melon and Palma ham has become such a popular Italian classic.
buying fruit and vegetables in Italy is  also incredibly cheap (compared to the UK). When I was in Sirolo last week, I picked up a quarter of a huge watermelon, for just 99cents; I had enough to make a salad for 14 people. Delicious and a what a bargain!
This salad was one of the most popular salads that I have made this summer. Particularly when its hot, this chilled salad of sweet juicy watermelon with the salty feta is a perfect refreshing combo.and as my friend Khalid says,"it's only water' so you cannot loads of it!
A little tip when making this salad; if you can, use small water melons as they don't usually have so many seeds in (some our even seed free).
Watermelon feta and mint salad
Difficulty: Easy                       Serves:6-8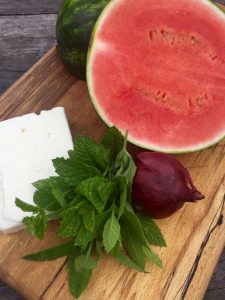 1 pkt of feta cheese (200g)
1 small water melon (chilled)
1 small red onion
1 small bunch mint leaves only, coarsely chopped
1tbsp white wine vinegar
1-2 tbsp olive oil
freshly ground black pepper
Finely chop the red onion and place in a large bowl. Cut the water melon into slices about 2cm thick, remove the skin and seeds and cut into 2cm cubes. Add to the onion.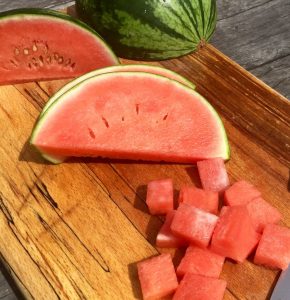 Crumble half of the feta over the salad and add half of the chopped mint. Season with plenty of black pepper. Dress the salad with the oil and vinegar to taste, and crumble over the remaining feta and sprinkle over the mint. Serve immediately.