Every so often I surprise myself and make something that's really really tasty. I'm not trying to be blow my own trumpet; but you know one of those dishes that after your first mouthful, you instantly go mmm…. that's really good and everyone goes quite for a few moments whilst they savour the moment. Well last night's risotto hit the spot.
I cook risotto quite often and usually it's the 'bits' that I add to the rice, like wild mushrooms or fresh crab which are the star of the dish. However this time I let the rice takeover. Flavoured with sweet basil and the rich earthy iron tones from the spinach the rice was beautifully soft and creamy but still had that slightly nutty taste and texture. It was sublime.
If you're making a green risotto  like this using herbs and leafy greens, always add the 'greens' at the end. This way you not only give the risotto a wonderful vivid green colour but also packs in the fresh flavour from the herbs and leafy greens. You can also mix up the herb/veg combo  with all sorts or different flavours; mint and pea, parsley and rocket, tarragon and leek…
Green risotto with sweet basil and spinach
Difficulty: easy/medium                                  Serves:4
1 onion finely chopped
1tbsp olive oil
4 large handfuls of arborio rice (approx 280g)
1 small glass of dry white wine.
1.25 litres of hot vegetable stock
1/2 cup freshly grated Parmesan
sea salt and freshly ground black pepper
Green purée
3 handfuls of spinach leaves washed
1 handful sweet basil leaves
2tbsp single cream

First make the green purée by blanching the spinach in boiling water for 2-3 minutes  then quickly plunging it in cold water and drain. Blitz the spinach with the basil leaves and cream and reserve.
Fry the onion in the olive oil over a medium heat for 5 minutes until the onion starts to soften. Stir in the rice and coat well with the oil so it glistens. Turn up the heat and add the wine. When the wine has evaporated add the a ladle full of hot stock. Stir well, when it has evaporated add another ladle full and continue in this way until the rice is al dente and creamy (about 16-20 minutes). Stir in the green purée and cook for 30 seconds then remove from the heat and add the Parmesan and season with salt and pepper to taste.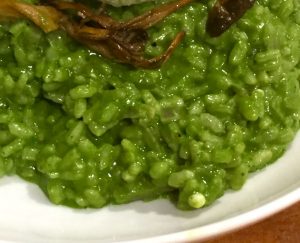 Serve with a little more grated Parmesan on the side.
For an extra special treat I have added a few sautéed wild mushrooms and courgette flower tempura.