If ever there was a soup that could put a smile upon your face it has to be Pappa al Pomodoro.   That first mouthful mmm… what can I say you have to try it.
I first had this soup about twenty years ago when visiting friends in Italy, and I can still remember the delicious rich aroma of tomato and sweet basil wafting from the kitchen. Kahlid who was cooking at the time, had the whole family drooling!
Traditionally known as a peasant soup from Tuscany, this rich tomato soup is thickened with stale bread, then finished off with a generous slug of olive oil and fresh basil. What could be simpler? Is also a great cheap recipe for students.
When making it, I find that tinned tomatoes work better than fresh this; and "Ciro" tinned tomatoes are the best. You can make the soup as chunky as you like depending on your taste.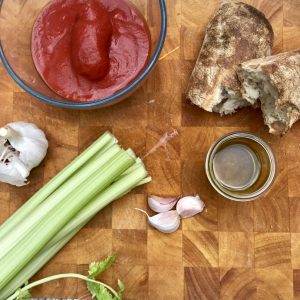 Pappa Al Pomodoro
Difficulty: Easy                                  Serves: 4
2     tins of tomatoes chopped (if using whole just blitz them quickly till coarsely chopped)
3     cloves garlic crushed
1     stick of celery diced
2tbsp olive oil
1/4-1/3  loaf of stale ciabatta
1       large bunch of basil
extra virgin olive oil
sea salt and freshly ground black pepper
Place the garlic and celery in a heavy based saucepan with the olive oil and cook gently for a couple of minutes. Add the tomatoes and a glass of water and bring to the boil and simmer for 25-30 minutes.
Break the bread into large pieces and add to the tomato sauce stir well till the bread has broken down into the soup. (You may need to add a little more water to thin down the soup if it is too chunky). Season well with salt and plenty of freshly ground black pepper.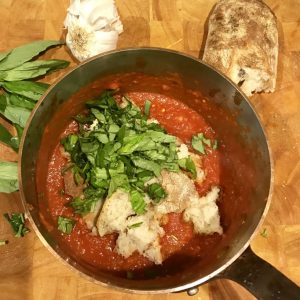 To serve, stir in a generous glug of olive oil and the freshly chopped basil.