I went a bit mad earlier in the year when I was planting my veggies. I was going through a bit of a beetroot craze and rather over did the beetroot planting! Now the fruits of my labour are paying off and I have a fantastic supply of beautiful beetroot…from the classic deep ruby red of the Boltardy with its rich earthy flavours, the glorious golden beetroot which is sweeter and milder in taste and the lovely white and pink candy striped beetroot which is stunning addition to salads when thinly sliced raw.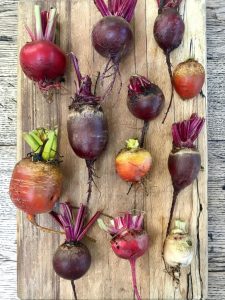 Golden beetroot is probably my favourite beetroot. Rich and yellow in colour it has a delicious sweet and rather subtle flavour which is not nearly as strong and earthy as the red beetroot (so is a great variety to introduce someone to beetroot). I think the best way to cook golden beets are to wrap them in foil, (still with their skin on) and bake them in the oven at 200C for around 45-55 minutes. They will keep well in the fridge for about 3 days like this.
This recipe not only looks very colourful, but taste great too. The sweetness of the beetroot works really well with the salty feta, then the refreshing peach cleanses your palette at the end. Totally yummy.
Golden beetroot white peach and feta salad with wild herbs
Difficulty : Easy                        Serves: 4
3-4 golden beetroot (medium sized)
1/2 packet of feta cheese
2-3 ripe white peaches (the donut variety are best)
1 tbsp wild herbs or chopped flat leaf/rocket/tarragon/chervil (mix of all 4 if available or just use parsley)
white balsamic vinegar and hazelnut oil to dress
sea salt and black pepper
Preheat the oven to 200C.
Scrub the beetroot to remove excess dirt and wrap in foil and bake in the oven for 45-50 minutes till cooked. Remove from the oven and leave to cool.
To serve peel the skin off the beetroot and scatter over a pretty plate. Peel the peaches and scatter over the beetroot. Crumble over the feta and sprinkle over the herbs and season with black pepper and a little salt (the feta cheese will be quite salty already). Dress the salad with a spritz of white balsamic vinegar and a drizzle of hazelnut oil and serve at room temperature.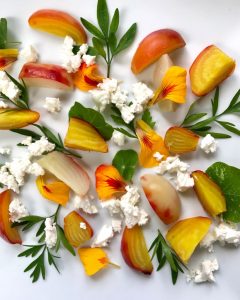 *For vegans you can omit the feta and use different beetroot varieties.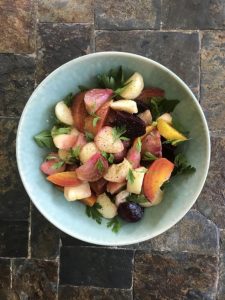 Balsamic glaze maybe used if you do not have white balsamic vinegar.