With many of my friends kids (including my own) back at uni, I've been asked to put some 'survival recipes up for students.' As pasta is always one of their staple foods being quick and cheap I thought this would be a good place to start. When my kids first went off to uni I taught them the classic Bolognese sauce and once mastered it can be pimped up into a multitude of dishes- hot and spicy, curried 'veggiefied' its quite amazing how creative students can be particularly when hungry, and broke!
Spaghetti with tomato, sausage and Pecorino is a bit like Bolognese  in that it can be tweaked into a variety of versions depending on what is lurking in the fridge. You can use any type of sausages you like, (I prefer Italian sausages)) and a little chilli to spice it up or use Parmesan, ricotta or even Philadelphia, what ever is to hand.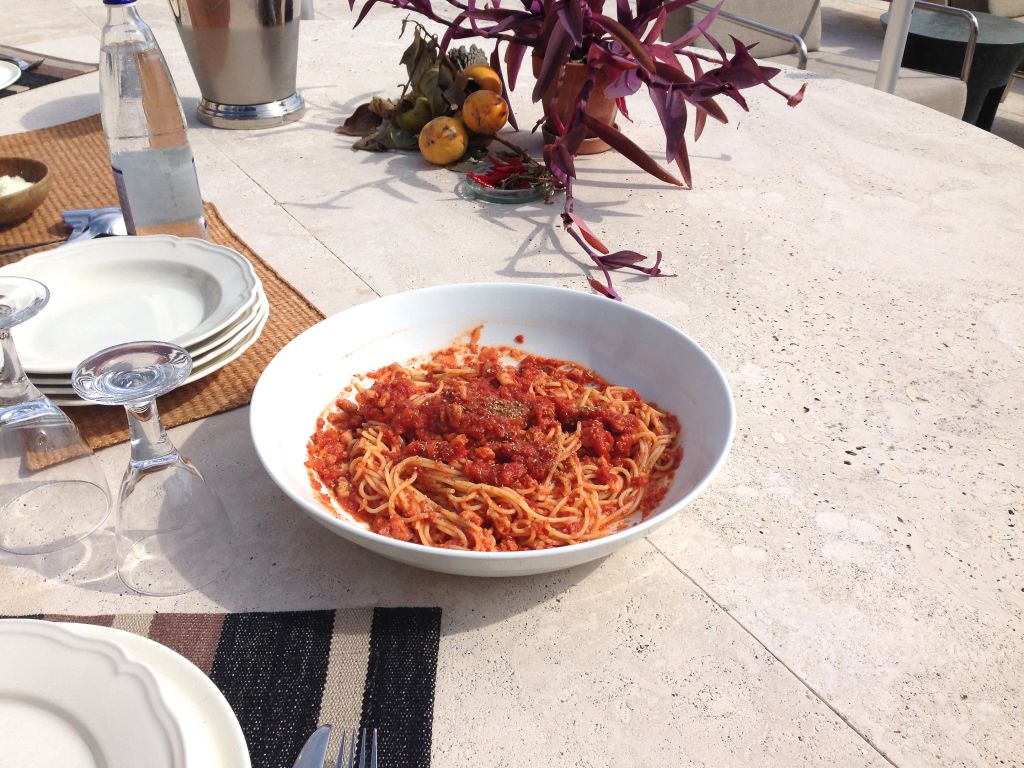 For 2 people
1 tin chopped tomatoes
2 -4 sausages (depending how meaty you like it)
1 onion finely chopped
1 clove garlic chopped
1tsp dried oregano or marjoram
1-2tbsp grated Pecorino (or 1tbsp ricotta or Philadelphia)
120g dried spaghetti
Sea salt and freshly ground black pepper
1tbsp light olive oil

Using a sharp knife slit the skin off the sausages and peel off the skin then pull off little pieces of the meat (about the size of a 10p piece) .
Fry the onion gently for 5 minutes until it starts to soften then add the garlic and cook for another minute before adding the sausage pieces. Increase the heat and fry the sausages for about 3 minutes until they start to change colour. Add the tomatoes and the oregano and bring to the boil and then turn down to simmer for about 8-10 minutes until the sauce has reduced. Whilst the sauce is reducing put a large pan of salted water on to boil and cook the pasta and drain keeping 1/4 cup of the pasta water aside. Stir the cheese into the hot (but not boiling) sauce and season with salt and pepper. Add the pasta and mix well adding a little of the pasta water if the sauce is too thick. Serve with a little (or quite a lot-if you're a bit greedy like me)! grated parmesan.

For another very quick and easy pasta dish, cook some tortellini then fry up a few sliced mushrooms then add a handful of frozen peas and some cherry tomatoes. Stir in a good knob of butter and mix in with the cooked tortellini. Delicious and very cheap!