It's been a bit of a funny year in the garden vegetable wise. Really slow to start and then endless days of wet weather without much heat; so loads of foliage, but not much fruit, but now everything has gone berserk, and I seem to have a massive glut of tomatoes and beetroot.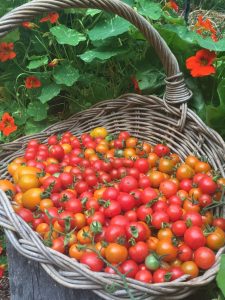 Like any gardener no matter how hard you try to 'stagger' your planting, there comes a point where everything flourishes at the same time. I've just picked enough tomatoes to last a week and there's more coming! So I've been coming up with some new salads to use up all those delicious vegetables.
Tomato and basil has always been a great combo, and I find that toasted nuts always work well with roasted beetroot. So I combined the two together and mades this great salad; tomatoes and roasted beetroot with a fresh pesto dressing. It's incredibly easy to make, and you can prepare most of it in advance if you need to. It's also very colourful and tastes fantastic; a great addition to any barbecue so well worth making.
Tomato and golden beetroot salad with fresh pesto recipe
Difficulty: Easy                                   Serves: 4
2oog cherry tomatoes (approx 2 large handfuls if picking)
4 roasted beetroot *
1 large handful basil leaves
1 handful pine nuts
1 small clove garlic
25g parmesan
2tbsp olive oil
1 icecube
sea salt and freshly ground black pepper
a little white balsamic vinegar for spritzing (or white wine vinegar if not available)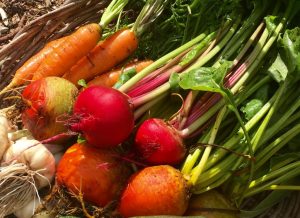 *To roast the beetroot: Wash the beetroots and wrap in foil and then roast in a preheated oven at 200C for 40 minutes then leave to cool. (This maybe done the day before).
First make the pesto. Toast the pine nuts in a dry frying pan over a medium heat until they start to colour. Remove from the heat and leave to cool.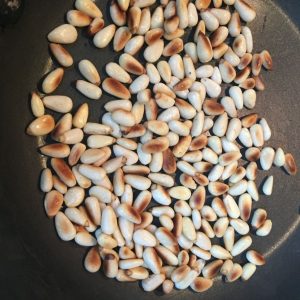 Place the basil leaves in a whizzer and pulse quickly till coarsely chopped. (Take care not to over blitz). Add the nuts and quickly pulse again. The pesto wants to be quite rough. Stir in the Parmesan and olive oil and season with a little salt and black pepper then add the ice cube and blitz again. (It's important to add the ice cube to loosen the pesto and keep the pesto green). Remove the pesto from the whizzer and reserve.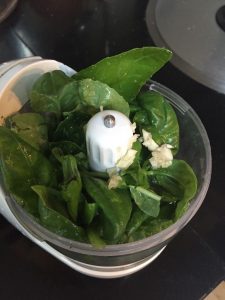 Peel the skin off the beetroot and cut into a dice and place on a serving dish. Cut the tomatoes into quarters and sprinkle over the beetroot. Season lightly with a little sea salt and black pepper then spritz over a little white balsamic vinegar. Drizzle over half the pesto and serve the rest on the side.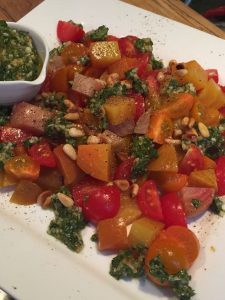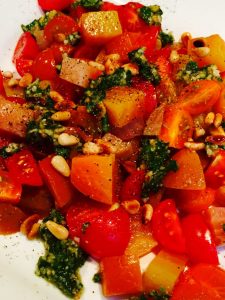 For vegan diets, just
omit the Parmesan or use Vegan Parmesan in the pesto.